3 Cannabis Terpenes you dont know yet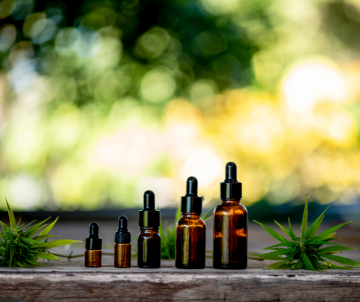 Ocimen, Terpinolen and Guaiol are quite unknown terpenes
However, they play an important role in cannabis and other plants
Today we will follow our ast article about therapeutic terpenes found in cannabis, in which we described the effects and chcharacteristics of, for example, citrus limonene, pine pinene, mango myrcene and floral linalool.
Scented essential oils or terpenes are what gives the different varieties a specific fragrance, flavor and healing character - they are currently at the forefront of how nobleand recreational users of cannabis, both doctors and patients.
"Therapeutic cannabis contains more than 200 different types of terpenes, but only 10 of them are so-called primary and about 20 secondary, which are found to be sufficiently significant."
Todaywe look at three of them, namely, the ocean terpinolene and guaiol.
1. Ocimen
Ocimen is an isomeric hydrocarbon found in many plants and fruits. We can recognize it by the sweetly fragrant, herbal forest aroma. This terpene is also used in many quality perfumes. In nature, it then serves as a chemical protection to plants. Ocimen is a very widespread terpene and is found, for example, in mint, parsley, pepper, basil, mango, orchids and, of course, hemp.
Among his main potential health benefits include:
Against fungal infections
Among the varieties that are known for the possible production of ocimene are famouc OG Kushor acidic Sour Diesel.
2. Terpinolen
Terpinolen is another isometric hydrocarbon characterized by a fresh, herbal floral fragrance with a unique hint of citrus aroma.It is found in a range of fragrant plants including nutmeg, tea tree, coniferous trees, apples, caraway and lilac. It is mainly used as an ingredient in soaps, perfumes or ointments.
Among his potential therapeutic effects include:
Terpinolen is most commonly found in dominant varieties sativa. One of the most famous varieties in which terpinolen is often found is legendary Jack Herer.If you are interested in this variety, you can look at our seed offer Jack Herer.
3. Guaiol
Guaiol is not directly fragrant oil, it is a so-called sesquiterpenoid alcohol, which is found, for example, in cypress pines and guajac. Guaiol is a historically used substance - people have used it and used it, for example, to cough, constipation, or arthritis. It can also be used as an effective insect repellent and as an insecticide.
Among his main hopes avotic effects include:
effective against microbes
It has anti-inflammatory effects
Among the varieties that the test has a high presence Guaiolu they include for example Blue Kush, winner of the cannabis cup 2001 Liberty Haze or even today legendary White Widow.
The seeds of all the varieties mentioned here are available on our menu e-shop.