6 Ways to Connect Yoga to Healing Cannabis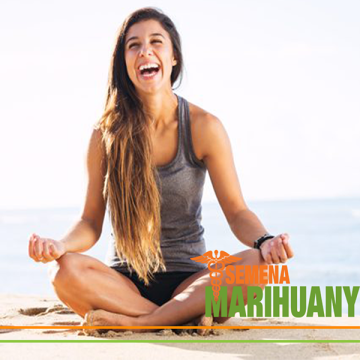 Practicing yoga under the influence of cannabis is more popular every day
Before starting the exercise you need to choose the right variety, method of administration and dose
For those of you who practice yoga for those who think they would start with it, here are some tips and tricks of an experienced yogi who can't let the combination of yoga and hemp be.
Yoga, Cannabis and YOU
"As a person who has long been interested in yoga and medical cannabis , I am of course also interested in how to link these two phenomena in order to achieve the most beneficial results. The pursuit of the best cannabis recipe is extremely fun for me I am excited to explore this area of living and being. By sharing my experiences with a wider audience, I try to reach people who want to enrich and improve not only their yoga practice, but also refine the way they approach cannabis treatment.
"The combination of yoga and cannabis is still a controversial topic among the widely diversified yoga practitioner communities. "
Most yogis agree that yoga is a practice of reducing suffering, easing being and findinga certain level of enlightenment by combining mind, body and spirit. However, some of the trainees claim that cannabis could disrupt the purity of mind and concentration that is needed to achieve the yoga goals. Others, in turn, do not allow for an expertly measured dose of cannabis foods, whether enriched with CBD, THC or a combination of cannabinoids, to help them discover the yoga practice deeper and without the usual mental barriers.
Even before this one can be said to be a powerful combination, it is very important to know yourself well under the influence of cannabis as well as in active yoga. If you are sure that cannabis helps you calm your mind, bring you a sense of relaxation, and perhaps somehow reduce your perception of pain in some parts of the body, the rest remains between you and the mattress.
Here are 6 basic points to think about before you combine yoga with hemp :
1. Balanc
Even before cannabis is strengthenedIf you go to a gym full of other people, check if you are able to stay calm after your cannabis dose and keep your mind and body balanced. If you first empty your vaporizer or bongo full of high-quality, medical cannabis just before the practice, you may not simply lose it and in addition take a couple of maternal mates to the ground.
2. Breath
Applying cannabis in a manner such as smoking or vaporization can temporarily disrupt the proper breathing ability, which is absolutely essential to yoga. If this is your case, try to apply cannabis earlier and let the lungs rest sufficiently or completely change the application method and go to cannabis tincture, for example. Also remember to have a sufficient supply of fresh water.
3. Concentration
The moment you survive and take a larger dose than you are used to, you may not be able to work with the instructor and focus on the forms. If your goal is to cleanse your mind and improve your yoga practice, be sure to start with a smaller oneand find out where your border is. If you start to lose yourself, consolidate your concentration back in breathing, listen to the instructor, and go back to the smooth exercise.
Of course, we cannot omit one of the beloved, the other dreaded, cannabis consumables. The overall goal is to use timely, plenty of practice and a balanced dose when using cannabinoid rich foods .
Remember that yoga can increase and intensify the effect of cannabis in many cases, so it is better to start with a lower dose.
5. Smoking or vaporization of the flower
Although smoking and vaporization commonly recommended due to disruption of proper breathing, selecting specific varieties reach many of perfect tunes just for jógu.Pokud with yoga carry the right scent and effect certain, your favorite varieties of cannabis, remember the advice of point 2.
6. Selection of variety
This makes doswe are just choosing the best cannabis variety that will help you make your yoga healthy. When choosing a variety, you simply have to rely on your senses.
No one other than yourself can judge whether a deeply soothing Indian such as Blue Cheese or an euphoric-charged Sativa full of exotic terpenes like Chocolope, will fit you. Some may also find it useful to use CBD healing varieties that are not so intoxicating.
If you are just starting out with cannabis and are wondering how to choose the right variety, check out the article "Cannabis for Beginners or Start into Conscious Treatment".
Source:
Fowler, Naomi. "Yoga, Cannabis, and You: 6 Best Practices for Pairing Yoga With Marijuana."Leafly, 26 May 2017