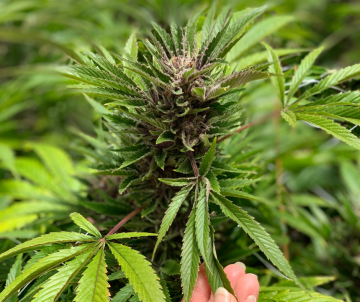 Species: Cannabis indica
Black Dominais a speciesindicacannabis (95% indica, 5% sativa).
This species is characterized by a high THC content, on average about 18%.
Black Domina is a model created by crossing four indica species of cannabis - Afghani, Northern Lights, Hash Plant and Ortega. Not very suitable for outdoor cultivation, best he thrives in an indoor environment with plenty of moisture.
Plants have a deep, deep green color. Black Dominos aroma is sharp piercing aroma with clay tinge.
effects and properties of Black Domina
Black Domina is strong soothing effects, is therefore a suitable model for evening use. Most often it is used for problems with failurepain,muscle spasms, etc.
Black Domina is a great model for relaxation, satisfaction and release from stress and anxiety. It suppresses nausea and promotes appetite, so it helps with eating disorders.
Nocharacteristics
Dry mouth . In some cases, dizziness or paranoia may occur.