Hemp Cosmetics and Marijuana Oils (Healing Hemp)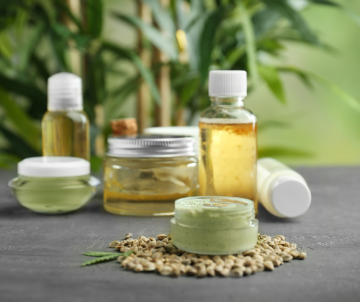 Hemp oil cosmetics contain the active ingredients of marijuana
Cannabinoids (especially CBD) and fatty acids in hemp preparations for the skin are, according to studies, able to act as preventive skin protection as well as an effective remedy for certain skin diseases.
For healthy skin, it is possible to apply hemp oils, soaps and lotions
Gone are the days when the cannabis plant was talked about only in connection with drugs and problematic youth. Today, fortunately, day by day, more people are realizing that it is a particularly medicinal herb (although there are far more uses for cannabis). The use of marijuana has thus spread from bongs to parts of cosmetics , ointments, oils and other products of all kinds.
As far as body care is concerned, hemp ointments and skin care products are currently in the forefront of the interest of all those who want to take proper care of their skin. Substances made of medical cannabis are in the form of ointments or oils usable both for maintaining the young and vital appearance of the skin, and for treating and soothing the symptoms of acne or eczema in a natural, gentle way.
Skin Care Using Natural, Hemp Cosmetics
The fact that cannabis is in many cases able to significantly improve the appearance of the skin or soothe the symptoms of skin diseases is not a big surprise for many. Healing cannabis is known for its antioxidant and rejuvenating effects. In addition, substances extracted from marijuana seeds are full of healthy fatty acids (omega-3 and omega-6) and, as part of hemp preparations, ensure optimal skin hydration together with protection against sunlight.
By acting on the endocannabinoid system of skin cells, a simple and effective effect of cannabis substances can be achieved.
Hemp Oils For Skin Diseases
Study after study confirms the huge potential of marijuana substances, which can quite possibly turn the entire skin care product market upside down. Nevertheless, the topic of cannabis is still taboo for many. However, you don't have to look far to see if cannabis cosmetics are really able to help.
One piece of evidence from practice is the example of Casey Calf. In 2015, Casey began to show signs of contact dermatitis (in her case due to irritation with Tea Tree oil). Casey had skin dermatitis for two weeks before she finally decided to see a doctor - who, of course, prescribed a steroid and antifungal ointment. While steroid and antifungal ointments were successful at first, dermatitis eventually won - after a few weeks, she returned with even more severe symptoms.
After returning to the skin, Casey was prescribed a completely different ointment, and Casey left the surgery with a warning against frequent use of steroid ointments and possible scarring of the skin as a side symptom. Casey decided the failure of the treatment and the possible risks, and she began looking for new information on the Internet. Surprising to the world, the newly prescribed ointment will not cure dermatitis according to users - it will only reduce the symptoms.
In the end, Casey decided to try natural CBD oil, mixed with her own, high-quality coconut oil. She applied the oil after a hot bath and proper opening of the skin pores.
"Casey has been writing down the results of her efforts since day one. After only the seventh day of self-treatment with hemp CBD oil applied after the bath, all symptoms of skin dermatitis disappeared. "
Nine months after the experiment, during 2015, Casey decided to publish her notes and the results of the experiment. In addition, he informs about his condition years later:
"Since the first 7 days of CBD treatment, my face has completely cleared and my dermatitis has simply not returned. Unlike the ointments prescribed to me by the doctor, CBD therapy was totally simple and, above all, effective. "
Thanks to stories like this and also more and more recent and thorough studies, more and more people are turning to CBD oils and marijuana ointments.
Hemp Cosmetics in the mature market
The case of cannabis treatment of skin dermatitis is just one example of how marijuana substances can be used for skin problems. Studies also confirm positive results in the treatment of pruritus, others everything from eczema to acne.
Today, the offers of drugstores and pharmacies are overwhelmed with all sorts of products, from steroid ointments to various herbal mixes. Of course, for some, these products will help someone, either for a short time or for a longer period of time, while someone is looking for something effective for their skin problems seemingly indefinitely.
Understanding the body's endocannabinoid system and with it the symbiotic effect of cannabis substances in our skin, together with every other study, tells us that substances such as THC or CBD in oils and ointments can have a significant preventive and curative effect on our skin.
The most interesting products for healthy skin containing cannabis include:
Hemp lotion can be used in many ways. It is able to actively hydrate and protect the skin from drying out, but it can also be used as a way to cleanse the skin. Cannabis substances are part of milk and as such cooperate with the endocannabinoid system of the skin.
In addition, hemp lotion is suitable for all skin types and you can use it even in summer as a regenerating product after a long, sunny day.
If it is in your interest to regularly, actively regenerate your skin, a protective hemp oil is recommended. Marijuana oils are able to keep the skin hydrated for longer and support the so-called hydrolipid barrier, which is able to protect against external influences such as dust, dirt, allergens and sunlight.
If the hydrolipid barrier is disrupted, skin wear will slowly but surely begin to occur at the sites. The fatty acids contained in hemp oils are able to regenerate these areas and thus maintain active skin protection. It is basically a possible cure and prevention at the same time.
A daily bath in the right style is the basis for maintaining the health of our largest body organ - the skin. Finding the right soap for your skin can be problematic in some cases, especially if perfumed soaps cause drying or irritation. For those of you who are looking for a gentle soap for everyday use, it is recommended to use hemp soap.
Hanf & Natur hemp soap does not contain any added fragrances and is made from high quality hemp oil. Ideal for use on sensitive skin.