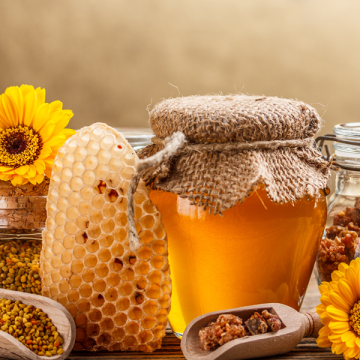 Bee honey is not in vain called super food. It is a natural sweetener with almost unlimited durability (if properly stored) that has excellent curative, nutritional and allergenic properties.
Who would resist itwith honey or honey tea or coffee, preferably with the right hemp. Today we look at healing varieties cannabis that thanks to it terpene profile they taste honey.
Original Nebulawas bred by a seed bankParadise Seedsin 1996. This plant, also referred to as "Honey Pot" for its sweet honey flavor, is known for its shimmering buds literallyresin-bonded. This popular hybrid delivers both a strong physical and an antidepressant effect. For patients seeking relief from nsomniawhile an alternative to antidepressantstherefore, this variety is an ideal choice.
For its 9 week flowering time and tickling honey flavor Nebulashe earned 3rd place in the High Times Cannabis Cup magazine in 1999, 2nd place in 2005 and finally 1st place in the Spanish Copa La Bella Flor Spain in 2005.
Another of the varieties that smell and taste honey is aptly name Sweet Tooth(Czech) Sweet or "toothy tooth" TatThe genetically dominant indica is very popular for its terpene profile characterized predominantly myrcenem(which acts analgesically and sedatively) a linaloolem(which especially affects anxiety). One of the benefits of this variety is also a very short flowering time of 6 to 7 weeks.
ConcEven maturation will be awaited by crystalline buds, characterized by their sweet and romawith citrus tint. In particular, patients taking this variety praise its sedative effects for fighting insomnia .
Another genetically indian variety is Cream Caramel, known for its caramel sweet flavor and aromani. This hybrid between BlueBlack Maple Leaf Indicaand White Rhino, whose flowers are ideally packaged in THC-packed resin under ideal conditions, making them the perfect medicine for patients who have problems with insomnia, but also chronic pain or depression.
You can get the original Cream Caramel from Sweet seeds on our e-shop. It is also available from us Cream Caramel Fast version-A non-autoflowering feminized version popular for its ultra-fast flourish as well Autoflowering Cream Caramel Auto .
And what about you, our readers? He already hasany of the honey varieties in your collection? Share your opinions and experiences with us in the comments section!