Lose weight with Healing Cannabis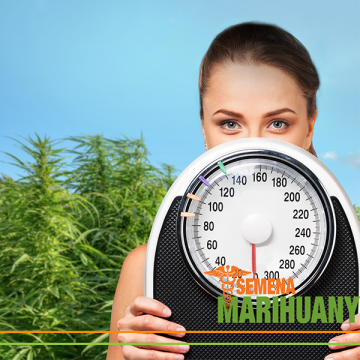 Studie pozorují účinek vitaminu A v kombinaci s konopím pro snížení objemu tuků v těle
CBD snižuje apetit, stimuluje geny a proteiny, které jsou zodpovědné za rozkládání tuku
Běžní uživatelé konopí mají nižší BMI index (index tělesné hmoty podle výšky/váhy)
Představte si svět, kde je léčebné konopí klíčovou složkou obsaženou v lécích proti obezitě. Některým z rekreačních uživatelů tato představa dost možná připadá ironická, jelikož po aplikaci konopí často rapidně stoupá apetit a ne málokdy se tak stává, že uživatel skončí s hlavou v oblacích, zaplaven balíčky od chipsů a čokolád.
Jedna z nedávných studií publikovaných v deníku endokrinologie však nabízí docela odlišný úhel pohledu. Podle této studie by se mohl klíč pro vyvinutí efektivního léku proti obezitě nacházet v mixu vitamínu A a určitých složek obsažených v léčebném konopí.
"Výsledky naší studie ukazují, že kombinace vitamínu A a některých složek konopí (kanabinoidů) působí proti nadměrnému ukládání tělesného tuku," vysvětluje jeden z badatelů, doktor Yann Gilbert. "Toto zjištění nám otevírá celou řadu nových příležitostí a potencionálních možností léčby obezity bez potřeby invazivních operací."
Vědci zjistili, že aktivace dráhy kyseliny retinové pomocí vitaminu A v kombinaci s aktivací endokanabinoidního systému těla pomocí fytokanabinoidů ve výsledku snižuje objem tukových zásob u "oplácaných" ryb, konkrétně Dánio pruhovaných (Zebrafish).
Synergie těchto dvou systémů je podle vědců naprosto klíčová a navíc je možno za tímto účelem aplikovat konopí v dostatečně malých dávkách na to, aby nebyl znatelný žádný psychoaktivní efekt. Je nutné dodat, že tyto výsledky nemusí být nutně reflektovány v budoucích studiích na lidských subjektech, vědu však i tak posunou o krok dál.
Když se podíváme, kolik je na trhu nebezpečných "léků" proti hubnutí, které mohou ve výsledku člověku spíše ublížit, je představa konopného přípravku proti obezitě přinejmenším sympatická. Vědci předpokládají, že pokud vše půjde podle plánu, můžeme konopný lék proti obezitě očekávat zhruba do pěti let.
Pro rychlé shrnutí - CBD, neboli kanabidiol, je nepsychoaktivní kanabinoid obsažený v léčebném konopí. Má protizánětlivé, neuroprotektivní, proti rakovinotvorné, antioxidační, antidepresivní a mnohé další účinky. Co se přírodních produktů pro zdraví týče, CBD vyhrává na plné čáře. Dokáže nám však pomoci i zhubnout? Určitá naděje zde je...
Vliv CBD na metabolismus skrze "hnědnutí tuku"
V jedné z nedávných studií publikovaných v deníku Molekulární a Buněčné Biochemie (Molecular and Cellular Biochemistry), se korejští vědci zabývají účinkem CBD na takzvané preadipocyty (nezralé tukové buňky) a pokoušejí se objevit potencionální mechanismy, které by ve výsledku mohly pomoci vyvinout přírodní lék proti obezitě.
Výsledky této studie CBD jsou vskutku pozoruhodné:
CBD stimuluje geny a proteiny, které jsou zodpovědné za rozkládání a oxidaci tuku
CBD zvyšuje počet a aktivitu mitochondrií. Vyšší počet mitochondrií se rovná zlepšené schopnosti těla spalovat tuky.
Snižuje počet proteinů zapojujících se do lipogeneze (tvorbě nové tukové tkáně)
Celkově tyto výsledky pramení ze schopnosti CBD nastartovat takzvané "hnědnutí tuků", což znamená přeměnit bílou tukovou tkáň, která je zodpovědná za ukládání tuků na béžovou tukovou tkáň, která je naopak určená k jejich pálení.
Předchozí studie navíc prokazují, že zvýšená aktivita v hnědé tukové tkáni je přímo úměrná zvýšené glukózové toleranci, což se dále rovná zvýšení odolnosti proti vývinu cukrovky a dalších abnormalit.
CBD proti metabolickým dysfunkcím
Zajímavé je, že přílišná aktivace CB1 receptorů endokanabinoidního systému přispívá k abdominální obezitě (lidově tlustému břichu), absorpci glukózy do tukových buněk a snížené rezistenci svalových tkání na insulin. Tato "metabolická dysfunkce" započíná bludný kruh, který vede ke zvýšenému apetitu a neustálému pocitu hladu. Postupně dochází k ještě větší míře aktivace CB1 receptorů a dalšímu, nadměrnému ukládání tuků.
Jedna z dalších studií se zaměřovala právě na aktivaci CB1 receptorů v myších a to pomocí fytokanabinoidů CBN a CBD. Co se vzorců stravování týče, badatelé vypozorovali značně odlišný efekt těchto dvou kanabinoidů. CBN v myších způsobilo nárůst na váze v důsledku zvýšeného apetitu, zatímco CBD apetit a tělesnou váhu ve výsledku snížilo.
Pokud vás zajímají další způsoby, jak snížit objem tuku v těle, zkuste ledové sprchy nebo vystavování se chladu, či vysoko intenzivní cvičení (samozřejmě jen pokud ho zvládáte). Úplně nejlepším řešením je potom cvičení v chladu a suplementace pomocí CBD oleje.
Konzumenti konopí jsou celkově hubenější
Jak vidíme, vitamin A, CBD a další kanabinoidy tedy dost možná pomáhají proti obezitě, což se odráží i v jedné ze studií z prosince minulého roku, kde vědci porovnávali index tělesné hmoty (BMI - udává zdravotní poměr mezi výškou/váhou) 786 jedinců - výsledkem bylo, že konzumenti léčebného konopí mají menší tělesnou hmotnost.
Tato studie analyzovala konkrétně data ze zdravotního dotazníku "Nunavik Inuit Health Survey" z roku 2004, který nám nabízí jedinečný pohled na vztah mezi užíváním konopím obezitou a inzulinovou rezistencí. Celých 54% účastníku této studie nahlásilo, že běžně užívá konopí, přičemž právě tito účastnící měli zdravější BMI hodnoty.
U konzumentů konopí byl celkově vypozorován nižší objem tukové tkáně a rezistence na insulin, což může i nemusí být výsledkem konzumace konopí. Teorií je, že konopí může zvýšit vaši odolnost proti vývinu prediabetu - stádia těsně před vývine cukrovky. Než se ale vykašlete na cvičení a zdravou stravu, počkejte raději na další, důkladnější studie. Stále je zde mnoho otázek, které čekají na odpověď.
Nicméně, tato studie jen přispívá k rostoucímu objemu zjištění ohledně spojitosti hladiny cukru v krvi, tělesné váhy a konzumace konopí. Například kanabinoid THCV, který jsme si popisovali v minulém článku "Léčebné Kanabinody 1: CBD a THVC", je momentálně pod lupou vědy zejména pro jeho potencionální účinky pro snížení hladiny cukru v krvi a schopnosti zvýšit produkci insulinu.
Překlad: Filip Maral
Zdroje: leafly1 leafly2 leafly2
Parray HA and JW Yun. Cannabidiol promotes browning in 3T3-L1 adipocytes. Mol Cell Biochem (2016) 416:131–139.
Kim SH and J Plutzky. Brown fat burning for the treatment of obesity and related metabolic disorders. Diabetes Metab J. 2016 Feb; 40(1): 12–21.
Farrimond JA, Whalley BJ, Williams CM. Cannabinol and cannabidiol exert opposing effects on rat feeding patterns. Psychopharmacology (Berl). 2012 Sep;223(1):117-29.
Di Marzo V. The endocannabinoid system in obesity and type 2 diabetes. Diabetologia. 2008 Aug;51(8):1356-67.
Romero-Zerbo SY, Bermúdez-Silva FJ. Cannabinoids, eating behaviour, and energy homeostasis. Drug Test Anal. 2014 Jan-Feb;6(1-2):52-8.
Després JP. The endocannabinoid system: a new target for the regulation of energy balance and metabolism. Crit Pathw Cardiol. 2007 Jun;6(2):46-50.
Obrázky: 420met weedseedshop