MEDICAL CANNABIS AND HEMP OIL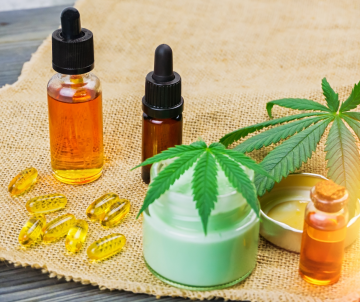 Nowadays, perhaps everyone has at least heard at least the term "medical" or "medical cannabis". Especially in the last 5 years or so, with cannabis products for the treatment of various ailments, the bag has literally torn.

However, what many people no longer know and do not differentiate too much is the fact that there are really a huge number of varieties of cannabis. It is no longer just about cannabis with THC, on the contrary, it is currently relatively declining. Let's see why this is so ...

What is the difference between THC cannabis and CBD cannabis varieties? Why is CBD a better choice in many ways? What products are most often used in medicine? Do you know what cannabis ointment is suitable for? Today's article answers these and many other questions in detail!
What diseases can medical cannabis help with?
As we have already mentioned, cannabis has long been known as an effective way of combating a wide variety of diseases of civilization. It can help with a huge range of diseases and problems, including those of a physical and mental nature. Patients using CBD cannabis usually praise in particular the absolute minimum of side effects, which is a big problem, for example, when using antidepressants to treat mental illness.
Therapeutic cannabis can help with the following diseases:
Multiple sclerosis

Neurodegenerative diseases such as Alzheimer's and Parkinson's disease

Migraines and headaches

Mental illnesses - anxiety disorder, depression, bipolar disorder, PTSD, sudden mood swings, etc.)

Nausea and dizziness

Reflux or heartburn

Chronic or acute pain of various origins

They can help with the symptoms of PMS, endometriosis and other female problems

Epilepsy , especially the forms that occur in children
Versatile plant with beneficial effects
Cannabis has been grown since time immemorial for its great effects. One of the first mentions of him can be found in the more than 5,000-year-old herbarium of the Chinese emperor. It is believed that cannabis cultivation began in Asia. Here it was most often used against insomnia, rheumatism, constipation, or just mental problems.  
It also has its roots in a world-famous method of healing, namely the well-known Ayurvedic medicine, which used it to treat jaundice, alcoholism, impotence, and digestive problems. In short, therapeutic cannabis is a very effective alternative method of supportive treatment.
THC vs. CBD cannabis
THC:
Restricted by law in the Czech Republic - it can only be obtained legally with a prescription

Psychotropic - causes changes in perception and behavior

May cause anxiety, depression or schizophrenia

Some people react very sensitively and THC can cause dizziness, nausea, headaches or drowsiness

In medicine, however, it is (to a limited extent) used to relieve severe chronic as well as acute pain.
CBD:
Completely legal in the Czech Republic

Non - psychotropic - does not cause changes in consciousness or behavior

Relieves the symptoms of mental illness (anxiety, depression, PTSD, bipolar disorder)

It can relieve nausea

It supports the natural function of the nervous system

It helps to sleep better

Like THC, CBD is very effective in relieving pain of various types and origins
Medicinal hemp ointment
There is currently an inexhaustible amount of cannabis products with therapeutic potential on the market. One of the most popular is the hemp ointment, which has been famous for a really long time. Its popularity is mainly due to anti-inflammatory, antiviral and antimicrobial effects. Provides protection for sensitive body and skin. Excellently hydrates and regenerates damaged skin. Due to its analgesic effects, it is especially desirable in patients suffering from arthritis, joint and muscle pain. Anti-inflammation, in turn, is appreciated by everyone with skin problems.
What can the ointment be used for?
Burns - whether from the sun or hot water during cooking. Hemp ointment soothes the affected area and relieves pain

Skin problems - dry skin, psoriasis, acne, eczema and other types of dermatitis, blisters, cold sores, corns or fungal diseases, etc.

Muscle and joint pain - relaxes muscles, almost immediately
Avoid applying hemp ointment to open or wet wounds. Always apply only on dry, intact skin.
Medicinal cannabis could easily be called the king of herbs. It is incredibly versatile and beneficial. Technical hemp can also be used for industrial and textile production. Every year we learn more and more about the effects of medical cannabis. We can be sure that the year 2021 will definitely not be an exception ...
Legislation and use of cannabis in the Czech Republic
From the point of view of therapeutic use, we could highlight especially varieties rich in the very effective cannabinoid CBD as well as CBG. Varieties of cannabis with a high content of these cannabinoids, and only trace amounts of THC (up to 0.3%), are completely legal in the Czech Republic.
Cannabis with a THC content above 0.3% can only be obtained with a prescription. You won't get it any other legal way. Cultivation, use, distribution and other handling of this type of cannabis is a misdemeanor or a crime in the Czech Republic, respect the legislation! A prescription can only be issued by a specially trained doctor, provided that your medical condition requires it. The most common users are patients being treated for fibromyalgia.

Therapeutic cannabis with THC can therefore only be obtained with a prescription. It will be issued to you in pharmacies with specially trained staff. This partial legalization of cannabis came into force in 2012.