Problems with hermaphrodites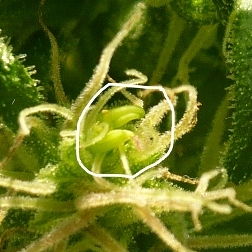 Konopí je dvoudomá rostlina. Znamená to, že rozmnožovací orgány samce se nachází na jednom jedinci a samičí na druhém. Při pěstování konopí se můžeme setkat nejen se samčími, samičími, ale i hermafroditními rostlinami. O co se vlastně jedná? Hermafrodit v překladu znamená obojetník. Když už se setkáme s takovou rostlinou, tak bude produkovat současně jak samčí, tak samičí květy. Hermafrodit vznikne jako poslední reakce na absenci obou pohlaví v kolonii. Mechanismus umožňuje rostlině samoopilování. Tato vlastnost se může projevit u dvoudomých rostlin jako reakce na nepříznivé podmínky.
Pohlaví mohou ovlivnit vysoké nebo naopak nízké teploty (ideální teplota v pěstírně 20-25°C), světlo (doporučuje se nejvýše 40 000 lumen/m2, což odpovídá 400W žárovce, až při kvetení je možno zvýšit), pH půdy, genetika, vystresování ( např. když pěstební médium příliš vyschne, zaštipování).
Na samičí rostlině se tak začnou nenápadně objevovat malé "kuličky", které vykvétají a v nich se vytváří pyl. Tento pyl je buď aktivní nebo pasivní. Aktivní začne opylovávat samičí palice a pokud pěstujeme pro úrodu, je to velmi negativní vliv. Pyl se totiž dokáže šířit stovky metrů až kilometrů daleko, což má neblahý dopad na pěstírnu.
Je tedy potřeba při začátku květu pokud možno denně kontrolovat rostliny. Pokud objevíme hermafrodita, můžeme se pokusit z něj otrhat samčí květy, ale lepší řešení je ho rovnou vytrhnout a vyhnout se tak nepříjemnostem, že přijdeme o velkou část úrody.
Velkou nevýhodou je, že hermafrodit může vzniknout nejen na základě špatných vnějších podmínek, ale je to dáno i geneticky. Semena z těchto rostlin jsou velmi nestabilní a inklinují k tomu, že opět vytvoří hermafroditní rostlinu. 
Z feminizovaných semen je sice záruka samičí rostliny přes 90 procent, přesto tady ale na hermafrodita jistá šance je. Šance na výskyt je sice velice malá, ale stát se to může. Proto mějte na paměti, že stabilizací pěstebních podmínek se můžete těmto nepříjemnostem vyhnout. A na závěr pár faktorů, které pozitivně ovlivňují tvorbu samic: vyšší koncentrace dusíku, fosforu, vyšší vlhkost, nižší teplota, více modrého světla, méně hodin světla. 
Konopí s obsahem víc jak 0,3 procenta můžete pěstovat až po změně legislativy! Více o legalitě konopí v článku Konopí před a za hranicí zákona.