Therapeutic cannabis and chemotherapy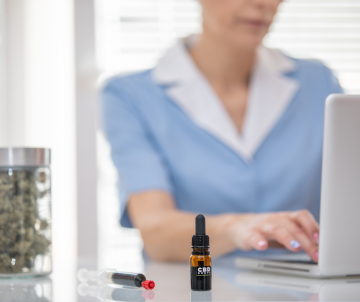 "Pomůže mi léčebné konopí při chemoterapii?" Tak zní častá otázka pacientů trpících na rakovinu, kteří vyhledávají dodatečnou pomoc v léčebném konopí
Způsobů, jakými pacienti trpící na rakovinu implementují konopí do svého léčebného režimu, je celá řada.
Někteří tuto všestrannou bylinu užívají za účelem zmírnění nevolnosti, bolesti či zvracení. Další z nich ji užívají za účelem psychického povznesení, které je v jejich náročném životním období tolik potřebné. Jiní zase užívají pouze konopí čerstvé (Více v článku "Konopí jako zdravá svačina"), v podomácku vyrobených kanabinoidních džusech nebo dokonce jako vysoce koncentrovaný, medicínský olej, pomocí kterého se snaží rakovinu přímo vymítit.
Častou otázkou však je, pomáhá léčebné konopí při chemoterapii nebo její účinek snižuje? Dnes se podíváme, co na to říkají prozatímní důkazy.
Hned ze startu bohužel musíme uznat, že jasnou odpověď na tuto otázku zatím nezná nikdo. Nicméně, je zde pár důvodů, proč je celá řada profesionálů ohledně užívaní medicínského kanabisu při chemoterapii stále obezřetná.
Jedním z důvodů je povaha aplikace konopí klasickým kouřením. Kouř z jakéhokoli hořícího materiálu má karcinogenní vlastnosti, které určitě nejsou pro osoby s chemoterapií oslabeným imunitním systémem ničím přínosným. I přesto, že kouřené konopí není dle studie z roku 2008 zdaleka tolik karcinogenní jako tabák (Více v článku "Škodí konopí plicím?"), rozhodně se nedoporučuje.
Ti, kteří se rozhodnou léčebné konopí během chemoterapie užívat, si mohou vybrat z mnohem zdravějších způsobů konzumace - například vaporizace, pojídání poživatin obohacených o léčebné kanabinoidy nebo pomocí konopného oleje.
Další problematikou je zde správné dávkování. Všeobecně se dá říci, že si většina buněk lidského těla po určitém čase ke konopí vytvoří toleranci. Zatím se však neví, zdali se stejná tolerance tvoří i v buňkách samotné rakoviny. Správné dávkování, které by v případě výskytu tolerance tomuto mechanizmu zabránilo, je stále otázkou.
V roce 2014 byla v jedné ze studií potvrzena účinnost THC, primárního psychoaktivního kanabinoidu obsaženého v léčebném kanabisu, jako "utlačovatele" růstu nádorových buněk. Nicméně, i tento výzkum má své nedostatky.
Jak popisuje doktor Peter McCormick, jeden ze spoluautorů studie "...ve výzkumu bylo použito pouze izolované látky THC, podávané v řádně měřených koncentracích. Pacienti by se zatím o samoléčbu konopím neměli pokoušet, nicméně doufám, že budeme schopni co nejdříve vytvořit bezpečný lék na konopné bázi, u kterého bude známo správné a hlavně efektivní dávkování."
Narušuje chemoterapie účinky léčebného konopí?
Někteří z pro konopných nadšenců tvrdí, že zde problém spočívá v úplně opačném mechanismu, tedy že chemoterapie narušuje a neguje pozitivní účinky léčebného kanabisu. Pravdivost tohoto názoru však prozatím nebyla potvrzena žádnou konvenční vědeckou studií.
Podle dnes již legendárního konopného aktivisty Ricka Simpsona, který svou rakovinu vyléčil vlastním přípravkem s vysokou koncentrací léčebných kanabinoidů, je třeba větších dávek konopí, které ve výsledku napraví negativní důsledky chemoterapie. Simpson na svých stránkách "Phoenix Tears" píše:
"Konopný olej má velmi vysokou míru úspěšnosti v léčbě všech forem rakoviny, o čemž se můžete sami přesvědčit četbou nesčetných přiznání pacientů na internetu, kteří tento druh konopného oleje k vyléčení své rakoviny použili.
Naneštěstí, mnoho pacientů vyhledávajících alternativní léčbu, kteří za mnou přišli, bylo již nezvratitelně poškozeno dlouhodobě trvající chemoterapií."
Klasickým problém zde je, že výroky Ricka Simpsona nejsou podloženy žádnou oficiální statistikou, ale pouze neoficiálními příběhy lidí na internetu. Zdali je budete brát vážně nebo ne, je na vás.
Pacienti, kteří se rozhodnou chemoterapii konopím doplnit nebo ji zcela nahradit se stále vrhají do značně neprozkoumaného teritoria. Pro více informací o oleji Ricka Simpsona se můžete podívat na dokument "Run from the Cure".
Zmírnění vedlejších efektů chemoterapie
Na trhu jsou již dostupné některé relativně účinné léky napodobující funkci kanabinoidů, jako například dronabinol nebo nabilone, které byly navrhnuty pro zmírnění vedlejších důsledků chemoterapie jako je nevolnost a zvracení.
Světově první studií je zde zatím australský klinický výzkum zahájený v prosinci roku 2016, který zkoumá právě účinky léčebného konopí v průběhu chemoterapie. Výsledky by nám měli nabídnout mnohem hlubší pohled do celé problematiky a určit, zdali konopí ve skutečnosti tradiční léčbě pomocí chemoterapie pomáhá či škodí. Nicméně fakt, že jsou již léky napodobující účinek medicínského kanabisu aktivně používané mnohými pacienty nám napovídá, že budou výsledky výzkumu spíše pozitivního rázu.
Do té doby, než bude klinická studie dokončena se však pacienti bohužel musí spokojit s neoficiálními příběhy ostatních.
Překlad: Filip Maral
Autor: Delilah Butterfield
Zdroj: herb.co
Obrázky: glennsabin.com abcnews.com