AutoMazar - feminized And autoflowering seeds 7 pcs Dutch Passion
Discount
38 points to the loyalty system
AutoMazar is an autoflowering hybrid between legendary Mazar and Ruderalis/Indica. More
The goods description is taken from the official manufacturer of the country. Under current valid laws of the Czech Republic, these goods have limited use and serve exclusively for collecting purposes. (More)
Legendary Quality Seeds
Mazar is an odor with an enormous THC content of around 19.5%!
This is an improved variety of Afghan and Skunk from 1997.
In 2008 she won the first prize for Best Indie and in 2002 she was second in the Highlife Cup.
Mazar flowers are very plush.
The total plant height is small. It has a rich soft aroma and excellent superior high effect.
Outstanding variety for fast outdoor harvesting.
Type: Indica
Height: 70-80 cm
Yield indoor: 50-125 g/plant
Growth time: 10 weeks
THC: 19.5%
Video of Growth
Articles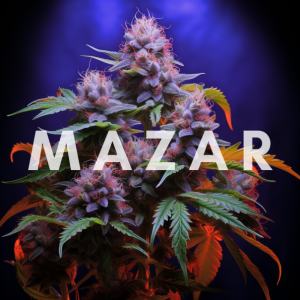 Mazar - Indian hemp with high CBD content ideal for evening relaxation and fighting insomnia. Get a restful night's sleep and with the Mazar variety, a suitable relaxation for nighttime use and promote quality rest.