New from Dutch Passion! CBD Mazar feminized marijuana seeds are among the most popular CBD varieties. The breeders managed to combine the most popular CBD variety on the CBD market, Charlotte's Angel, with the indica dominant Mazar variety. More
The description of Mazar CBD seeds is taken from the official manufacturer Dutch Passion. Under current Czech laws, these goods have limited use and are used exclusively for collecting purposes.
CBD Mazar from Dutch Passion
Due to the increasing demand for quality CBD varieties with a low THC content, they decided to expand their offer in the Dutch Passion seed bank.
We now present feminized marijuana seeds of the CBD Mazar variety.
The creation of the new feminized CBD Mazar variety is due to the combination of the most popular variety on the market - sativa dominant CBD Charlotte's Angel and classics - indica dominant dominant Mazar .
CBD Mazar has a slightly lower CBD content than Charlotte's Angel's CBD. Even so, it boasts a beautiful value, averaging up to 13% CBD . You will always measure the THC content below 1%. The average measured value was between 0.4 and 0.5% THC.
Thanks to the indicator genes, the breeders achieved a reduction in flowering time by a week. Unlike the CBD Charlotte's Angel variety, you can harvest it after just eight weeks.
Femina variety is suitable for indoor and outdoor placement. Outdoors, it is ready for harvest in late September.
The plants have solid and dense sticks full of resin and offer high yields.
Genetics CBD Charlotte's Angel
This feminized variety was created by crossing the Dutch Charlotte and Red Angel strains. It is the dominant sativa . CBD Charlotte's Angel is a variety that excels in high CBD content . The THC content is always below 1%. The variety has many healing benefits of cannabis.
Sativa predominates in its genotype. Feminized marijuana seeds can be placed in an indoor environment. The plants are ready for harvest in about 9-12 weeks and boast very high yields.

Basic information about the feminized cannabis variety CBD Mazar
Genotype : indica / sativa
Genetics : CBD Charlotte's Angel x Mazar
Flowering time : 8 weeks
Harvest outside: end of September
THC : below 1%
CBD : 10 - 13%
Terpenes contained in CBD Mazar cannabis plants
Myrcen - Has anti-inflammatory abilities. It could thus be helpful in the treatment of osteoarthritis, rheumatism or other inflammatory joint diseases. This is a very common cannabis terpene. We find it mainly in the flowers of the cannabis plant.
Pinen - Aroma of terpene Pinen is a mixture of rosemary, basil and forest scent. It offers a number of potentially therapeutic effects. It has anti-inflammatory effects, which will be welcomed especially by asthmatics, for whom fresh air is a balm for the respiratory tract. And this is exactly the effect this terpene can have. At the same time, it can fight against possible infectious germs.
Limonene - Terpen has a typical fresh citrus aroma. It is used as a supportive method of treatment for breathing problems. It has anti-inflammatory effects. This is another very common cannabis terpene in marijuana plants.
Caryophyllene - Has a characteristic peppery aroma. Like many others, this terpene has anti-inflammatory effects. It contributes to the treatment of airway inflammation and pain.
Articles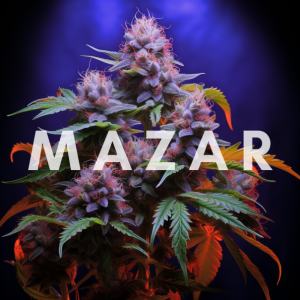 Mazar - Indian hemp with high CBD content ideal for evening relaxation and fighting insomnia. Get a restful night's sleep and with the Mazar variety, a suitable relaxation for nighttime use and promote quality rest.