CBD Tinctura Cannapio 20% - natural full-spectrum oil 30 ml
-18%
135 points to the loyalty system
Cannapio 20% CBD oil is currently one of the highest CBD oils in the Cannapio range.
Thanks to full-spectrum extraction, the oil has retained its content of other cannabinoids, including preserving the naturally occurring terpenes in cannabis.
This oil contains 7.44 mg of CBD in a single drop. More
According to Regulation (EC) No 1924/2006 of the European Parliament and of the Council of 20 December 2006, it is not possible to indicate the health and medicinal effects of plants and food supplements or of individual ingredients contained in cannabis. More information can be obtained from freely available expert sources on the internet and from the literature.
High CBD content
One vial contains 20% of the main active ingredient CBD.
Prefer full spectrum cannabinoids
Prefer our full spectrum extract. Our oil is made from honest hemp of European origin.
The quality is guaranteed by the use of fundamentally dark, light-proof bottles that protect the oil from sunlight.
Natural full spectrum hemp extract is the only legal extract for internal use.
Our 20% full-spectrum extract also contains approximately 3% CBDV and other active ingredients such as CBG or CBDA, or naturally occurring hemp terpenes.
THC content
THC is not to be feared in this extract. The THC content of the extract is below the 0.05% threshold. This makes it almost undetectable already in the lab. It has no chance of affecting humans at all.
The legal limit for the THC content is 0.2%, which is considerably higher.
CBD for a whole month
The recommended dose of CBD is 30 mg per 75 kg man. One 20% CBD vial covers an average of more than a month of use.
To determine the appropriate dose, we recommend calculating the appropriate dose using our CBD calculator. When calculating your CBD dosage, you need to consider both gender and weight.
This oil contains 7.44 mg of CBD per drop.
Recommended CBD dosage
Example of recommended dosage for a 20% tincture:
| | | | |
| --- | --- | --- | --- |
| | 60 Kg | 75 Kg | 90 Kg |
| Male | 3 drops | 4 drops | 5 drops |
| Female | 2 drops | 3 drops | 4 drops |
How quickly and for how long does CBD work?
The effect of CBD that is applied by dropper under the tongue comes in 5-10 minutes.
The effect lasts 1-3 hours.
CBD Tinctura is a dietary supplement.
It is not a substitute for a varied diet. Keep out of reach of children. Not suitable for pregnant or breastfeeding women. Shake before use. Recommended daily dosage on bottle. Store in a dry and dark place.
This product is regulated by Decree No. 58/2018 Coll. on dietary supplements. It is also governed by EU and European Food Safety Authority (EFSA) regulations.
Ingredients.
Cannapio
Parameters
| | |
| --- | --- |
| THC content | THC to 0,3 % |
| Extraction | 20% CBD |
| Terpenes | a mixture of terpenes |
| Volume | 10 ml |
| Active substance | CBD |
| Form | CBD oil |
| Typ oleje | plnospektrální CBD olej |
Articles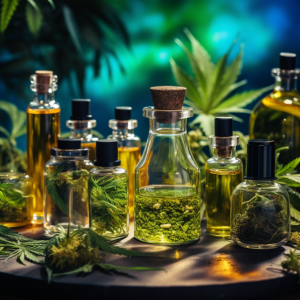 Did you know that cannabis tinctures can be the magic key to improving your overall health and well-being? In this article, we delve into the fascinating world of cannabis tinctures, where we discover how they are made, what benefits they can bring and how to use them correctly.