Gorilla Zkittlez Auto - self-flowering seeds 3 pcs Barney's Farm
Discount
21 points to the loyalty system
This variety has taken the place of the best-selling variety from Barney's Farm in the Cali Collection. In addition to the originally crossed geneticists Gorilla Glue and Zkittlez , a self-flowering BF Super Auto # 1 was added. More
The description of the goods is taken from the official manufacturer of the country. Under current Czech laws, these goods have limited use and are used exclusively for collecting purposes.
Gorilla Zkittlez Auto - Autoflowering seeds from Barney's Farm
The self-flowering variety Gorilla Zkittlez Auto is a hybrid of geneticists Gorilla Glue, Zkittlez and BF Super Auto # 1. It is a feminized tribe dominated by Indica .
Indoor and outdoor environments are suitable for growing plants. In the indoor environment, they reach a height of 80 - 100 cm and the expected yield is 420 g / m2. If they are placed outside, they grow around 110 - 130 cm.
The plants look like a Christmas tree and the flowering time is about 75 days.
Thanks to genetics BF Super Auto # 1 has gained this autoflower variety resistance to pests and stress .
Genotype : 75% indica, 25% sativa
Genetics : Gorilla Glue X Zkittlez X. BF Super Auto # 1.
Optimal yield : 420 g / m2
Indoor height : 80 - 100 cm
Outdoor height : 110 - 130 cm
Flowering time : 75 days
THC content : very high
Terpenes contained in Gorilla Zkittlez Auto
Pinen - Aroma of terpene Pinen is a mixture of rosemary, basil and forest scent. It offers a number of potentially therapeutic effects. It has anti-inflammatory effects, which will be welcomed especially by asthmatics, for whom fresh air is a balm for the respiratory tract. And this is exactly the effect this terpene can have. At the same time, it can fight against possible infectious germs.
Caryophyllene - Has a typical pepper aroma. It is suitable for people suffering from frequent inflammation of the upper respiratory tract. It has analgesic effects that could help relieve pain of various origins.
Linalool - Has calming effects. It relieves muscle tension, relieves stress and restores calm to the entire nervous system. It also helps to sleep better and strengthens the immune system.
Humulen - Has a strong earthy aroma with hints of spice. Due to its antibacterial and anti-inflammatory effects, it is used when inhaling the upper and lower respiratory tract. Its abilities will also be appreciated by people suffering from frequent sinusitis, bronchitis or nasopharynx.
Articles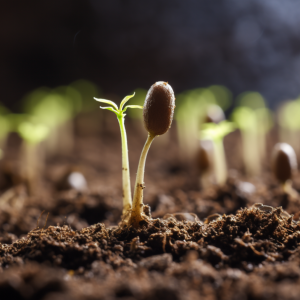 If you are a cannabis enthusiast, you know that the key to success is quality germinating seeds. We'll teach you how to properly select and store seeds, how to perform the germination process, and how to care for germinating seedlings so they grow into healthy and strong plants. In addition, we'll look at how to protect germinating seeds from diseases and pests, which is important for a successful start to your growing season.
Alternative products (3)
| | |
| --- | --- |
| Flowering type | photoperiod |
| Genotype | sativa |
| Placement | indoor, outdoor |
Thanks to the current advances in marijuana genetics and its promotion, the quality of our Acapulco Gold continues beyond the limits of so…
| | |
| --- | --- |
| Flowering type | photoperiod |
| Genotype | fifty-fifty |
| Placement | indoor, outdoor |
Skunk #1 crossed by the proven genetics of Amnesia Haze, who was always ready to become the winner.
| | |
| --- | --- |
| Flowering type | photoperiod |
| Genotype | sativa |
| Placement | indoor, outdoor |
Winner of the Cannabis Cup 2003.