Infinity - Indoor CBD Flowers Cannapio 20g
CBD hempflowers are a 100% legal and non-psychoactive form of cannabis. They contain a high proportion of CBD.
Grown indoors. More
CBD flowers come directly from the hemp plant, unlike oils and other products they are unprocessed, only gently dried. Hemp CBD sticks are therefore 100% natural. Tested in an independent laboratory.
Our CBD flowers Cannapio Genetics Infinity CBD.
This variety comes in two color phenotypes, one green and the other a strong purple.
These flowers have the following levels of cannabinoids according to accredited analysis:
CBD total : 7,31 % w/w.
delta-9-THC : 0.11 % w/w.
THC total: 0.33% w/w
CBG total : 0.19% w/w
These values are measured by an accredited laboratory.
The terpene profile of Cannapio Infinity CBD contains terpenes such as:
Caryophyllene, Geraniol, Ocimene.
This is why these flowers smell like basil and pepper or cloves.
Legal cannabis
The legality of cannabis in most countries is set at 1% total THC. Up to this limit, the psychoactivity of cannabis is considered negligible and it is thus classified as technical cannabis, which can be legally grown, processed and possessed.
Packaging: 20 grams
CBD flowers serve as raw material for further processing.
The CBD flowers meet the legal threshold according to law.
Intended for industrial, technical and horticultural purposes. For further processing, not for direct consumption or smoking. The product is subject to natural weight loss. No sale to persons under 18 years of age. Keep out of reach of children. CBD flowers with THC content above 0.2% are shipped only within the Czech Republic.
Articles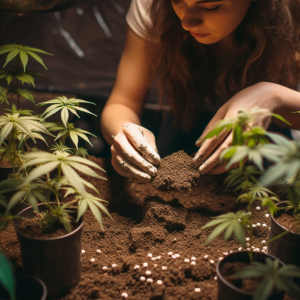 In our ever-expanding world, caring for plants is increasingly important. And one of the key factors for healthy plant growth and beauty is proper fertilization. In this article, we'll introduce you to the different types of fertilizers, their advantages and disadvantages, and give you tips on how to choose the best one for your gardens and flowers.