Purple Ghost Candy - feminized cannabis seeds 5 pcs, Seedsman
Purple Ghost Candy is a feminized seed from Seedsman's ''High THC'' line. This fascinating variety has a THC content of up to 26%. More
Purple Ghost Candy - feminized marijuana seeds from Seedsman seed bank
Purple Ghost Candy is a fascinating cross between Ghost OG and one of the best Purple strains of recent times, Candyland Purple. Purple Ghost Candy is 60% sativa and 40% indica. These are large plants with high yield potential both indoors and outdoors. High resin production and an impressive terpene profile make this strain the perfect strain for making extracts.
The plants are relatively robust and vigorous growers. For these large plants, it is advisable to provide support for the side branches, as they can grow to a height of 250-350 cm outdoors . It is also ideal to use the SCROG method.
Indoors, the plants grow to a height of 130-160 cm and take 70-83 days to flower , yielding about 500-600 g/m2. Outdoors in the northern hemisphere, they are harvested in mid-October, with each plant capable of yielding 700-900 g.
A remarkable aspect is the very large golden resin crystals that form, which are noticeable after a week or two in the flowering stage, which stick like glue and whose scent lingers for several hours.
Fertilization and ventilation requirements peak in the 8th week, after which nutrient requirements decrease. In the last week, it is recommended to flush the plants with ice water, as cold temperatures contribute to better colour. When dried and cured, the flowers are lime green with purple pastel tints and medium in density.
The THC production is very high at 27,54 % and the CBD content is low.
Details of Purple Ghost Candy
Genotype: 60% sativa, 40% indica
Genetics: Ghost OG x Candyland Purple
Flowering time: 70 - 83 days
Yield: 500 - 600 g/m2
Yield outdoor: 700 - 900 g/plant
Outdoor height: 250 - 350 cm
Indoor height: 130 - 160 cm
THC: 27 %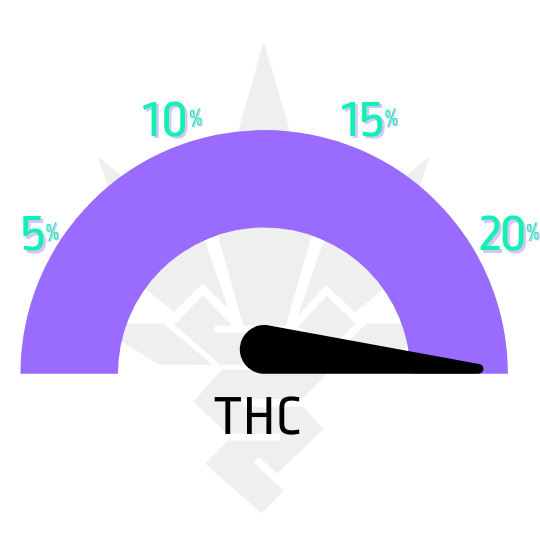 Articles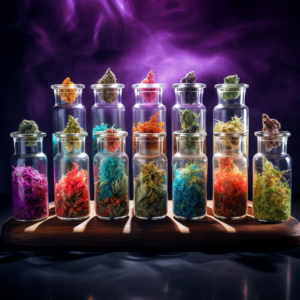 You may have heard of cannabinoids, but terpenes are another important ingredient that plays a key role in the effects and properties of cannabis. Get ready to take a deeper look into the world of terpenes and discover how they affect the unique profile of each cannabis strain.